Hello and welcome to Word of the Week!
If you're new here, Word of the Week is a nice and simple weekly linky, with everyone welcome to pop by and share. You reflect back on the past week and sum it up in one word. Then share your word with us in a blog post, with as little or as much explanation as you like. It's a fun and friendly linky, so please do be lovely and visit as many of the other blogs as you can and share with them your thoughts on their words and weeks. I do comment on every entry to the linky, and if you add the Word of the Week badge to your post to help spread the 'word', I also tweet them out.
My word of the week this week is:
Ah yes, it's been a costly one!
A week or so ago I'd barely even thought about Christmas, but over the last week I've bought over half of all of our Christmas shopping, which has certainly given the credit card a beating! In addition to this, I've bought both my mum and my mum-in-laws birthday presents as they're both November birthdays and my brother-in-law's December birthday present. Then there's some of Little Man's and Boo's friends birthdays coming up, along with a few other friends, so all of their cards and presents are now sorted.
We have an exciting trip to London next weekend including a trip to Kidzania, which has meant booking trains, and of course they are costly!
As if that wasn't enough, we have also booked a break for early January to give us all something to look forward to post-Christmas. This will be a surprise for the kids and part of their Christmas presents. Oh, and yes, the Husband and I are also going away with my brother and his wife in February so we've been arranging that. Then there's the small matter of next year's summer holiday so I have been looking at flights and accommodation for that – not yet spent, but looking costly!!
I can feel the need for a more frugal week next week so I'd best stay away from the internet and the shops!
What about you? What one word sums up your week best?
Please grab the badge, link up and share.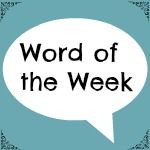 Linky opens at 6.30am Friday, to midnight on Sunday.