Thank you for continuing to link up! I love reading everyone's chosen words, and it's great to see so many familiar linkers, as well as new ones each week. It is a linky, so do please take the time to visit a few other posts if you link up, as that's only fair.
If you're new here, Word of the Week is a nice and simple weekly linky, with everyone welcome to pop by and share. You reflect back on the past week and sum it up in one word. Then share your word with us in a blog post, with as little or as much explanation as you like. Come join in!
My word of the week this week is:
I am a fan of stationery, so this is a good word for me to use for my week!
For those of you that don't know, this is actually National Stationery Week, so it does seem fitting to have this as my word. I was also lucky enough to have some beautiful new stationery from the children for Mother's Day – they know me so well! As I was away last week, I had letters to reply to on my return, so I've been catching up on my correspondence this week, too. I've been ordering myself some blog business cards from 123Print, and will share my review and offer a giveaway on those soon. And, in case you missed it, I've launched #BringBackPaper this week, which I'm very excited about, as it's a chance for me to totally indulge my stationery obsession, run a book swap, and hopefully find other like-minded folk! I'm also offering #BringBackPaper stationery treat bundles from my shop, so I've been ordering in some gorgeous writing sets, notecards and jotter pads for those. Oh, I do love pretty paper….!
What about you? What one word sums up your week best? Grab the badge, link up and share, and do please take the time to read a few others…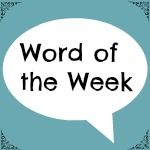 Linky opens at 6.30am Friday, to midnight on Sunday.