Thank you so much for continuing to share and to link up. I love reading everyone's chosen words, and it's great to see so many familiar linkers, as well as new ones each week.
If you're new here, Word of the Week is a nice and simple weekly linky, with everyone welcome to pop by and share. You reflect back on the past week and sum it up in one word. Then share your word with us in a blog post, with as little or as much explanation as you like. Come join in! All that I ask is that if you link up, you link back to me, and visit as many of the other blogs as you can and comment on their words.
My word of the week this week is:
This week has been a week of being outdoors. My word could easily have been 'outdoors', or 'garden', as I've spent lots of my time working out there, while the kids have been having fun playing (creating chaos!) around me. But I've gone for 'noise' as being outside, and other people being outside, has kicked this one into overdrive. You see, Little Man is somewhat obsessed with noise, or 'noi' as he says. Every little sound will have him shaking his head and saying 'noi', often followed by 'away'. He prefers the quiet life it seems. We've been outside, so there's traffic noise – motorbikes and bin men are particularly unpopular with him – and then other people have been taking advantage of the dry days and mowing and strimming which has not gone down well! So I'd guess I hear the shout of 'noi' around 50 times a day, it disturbs his naps as he worries about what noise could be happening out there and his beautiful face creases in consternation when his ears cannot correctly identify a sound, so that he can be confident it poses no risk. The phrase 'noise can't hurt you' is starting to feel a tad over-used! I'm hoping that this is a phase that will soon pass….
What about you? What one word sums up your week best? Please grab the badge, link up and share…..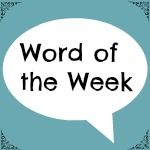 Linky opens at 6.30am Friday, to midnight on Sunday.