Thank you #WotW linkers! Lovely to have you joining us. If you're new here, Word of the Week is a nice and simple weekly linky, with everyone welcome to pop by and share. You reflect back on the past week and sum it up in one word. Then share your word with us in a blog post, with as little or as much explanation as you like. I comment on and tweet out every post, as long as you add my #WotW badge or a link back to here. It's a fun and friendly linky, so please do be lovely and visit as many of the other blogs as you can and share with them your thoughts on their words and weeks.
My word of the week this week is:
Yes, the countdown has well and truly started here!
This week has seen our Christmas tree and decorations go up, advent calendars appear and Marty the Elf has arrived. The children are excited, and every moment seems to be a countdown to them!
On the organising side, I'm aware that we're nudging ever nearer, and so I've now completed my Christmas shopping, started the huge pile of wrapping (I hate wrapping!), started to post cards out and arranged a few meet ups with friends to swap pressies. Our weekends seem to be full from now until Christmas, so I'm attempting to squeeze a few more hours out here and there! Of course, the countdown also means a new years countdown, which must mean new stationery, right? Yep, blogged my top picks a couple of days back 😉
I love Christmas, and to me it's as much about this countdown time as it is the day itself, so I'm trying to get my bits and bobs sorted and out of the way so that I can enjoy watching Elf regularly, have fun on Muppet Christmas Carol day, help Boo learn her nativity lines and know that when it's time for It's a Wonderful Life on Christmas Eve, all will be taken care of!
What about you? What one word sums up your week best? Please grab the badge, link up and share.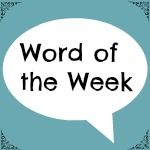 Linky opens at 6.30am Friday, to midnight on Sunday.