Hello and welcome to Word of the Week!
If you're new here, Word of the Week is a nice and simple weekly linky, with everyone welcome to pop by and share. You reflect back on the past week and sum it up in one word. Then share your word with us in a blog post, with as little or as much explanation as you like. It's a fun and friendly linky, so please do be lovely and visit as many of the other blogs as you can and share with them your thoughts on their words and weeks. I do comment on every entry to the linky, and if you add the Word of the Week badge to your post to help spread the 'word', I also tweet them out.
My word of the week this week is:
Paper in many different forms seems to have dominated my week, which I hadn't realised until I sat down to write this.
Last Friday I received my book swap package, an author I have yet to read, so I am really looking forward to this one.
Over the weekend I decided to have a sort out of all of my stationery, which took a while but it was such a lovely task!
Once all sorted I sat down to put pen to paper and ended up sending out a variety of pen pal letters and cards and notes to friends, which was lovely to do.
As it turned the start of the month this week, I spent a little time setting up my bullet journal ready for the month, a task that I always enjoy. (I do blog about bullet journals if you're curious).
The paper that has dominated my week, certainly in terms of how much time my head has been thinking about this, has been my Open University work. I have started on my End of Module Assessment, which is equivalent to the exam component of a module and is basically worth 50% of the year's mark so I really want to get it right! As you can see from the picture, I have printed off plenty of primary and secondary sources, I have post it notes stuck throughout my books and am basically working in a sea of paper! I am hoping to get the first draft finished today, all being well, and then I'll go on to edit and mess about with it next week. That's the plan!
I also launched a stationery swap this week. I do these regularly and they are always popular but this one took me a bit by surprise as it is turning out to be really, really popular! I do love the thought of lots of lovely papery packages being sent out this month, and of course that's another reason for 'paper' as I have bundled mine up ready to go.
Then the Husband bought home some new signs he'd made for the kitchen, OK not strictly paper but close enough! It's handy having a signwriter as a Husband for things like this, but if you're without a signwriter in the family, perhaps try Stocksigns for materials and custom made signs.
And naturally, there's also been the books I'm reading and new books for the kids this week – so much paper!
What about you? What one word sums up your week best?
Please grab the badge, link up and share.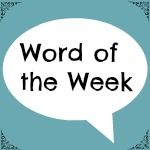 Linky opens at 6.30am Friday, to midnight on Sunday.
Disclosure: This post contains a sponsored link