Hello and welcome to Word of the Week!
If you're new here, Word of the Week is a nice and simple weekly linky, with everyone welcome to pop by and share. You reflect back on the past week and sum it up in one word. Then share your word with us in a blog post, with as little or as much explanation as you like. It's a fun and friendly linky, so please do be lovely and visit as many of the other blogs as you can and share with them your thoughts on their words and weeks. I do comment on every entry to the linky, and if you add the Word of the Week badge to your post to help spread the 'word', I also tweet them out.
My word of the week this week is:
Second week into the summer holidays and we're definitely finding our groove here. The kids are settling down as they adjust to being with one another 24/7 (the first week is always hyperactive chaos as they are beyond excited!) and I'm finding ways to balance still getting jobs and work done around having fun with the kids.
We've had a lovely day out at the National Forest Adventure Farm as well as catching up with family, the kids having a sleepover at my mum's and a fun play date, so it's been another good one. On top of the fun stuff, it's also been productive.
We've spent a few hours clearing out and decluttering both of the kids rooms and the playroom and managed to take several bags to charity and given some toys to friends. Both of the kids have their birthdays coming up so I like to do this in readiness for the next influx of toys and it's been a good way to 'rediscover' old toys and books that they had completely forgotten about. A box of Lego and a stack of puzzle books have been given a new lease of life.
On the subject of their birthdays, I've got those sorted this week, too. All gifts have been ordered and duly hidden on arrival. Neither of them want parties this year (phew) and have instead requested days out and a hotel stay each, so I have got those planned and booked in for each of them now.
I've even been on it with my Tesco clubcard vouchers this week. The email about them arrived yesterday so I logged straight in and boosted them for ThinkTank tickets for Boo and I as she's been asking to go there as a treat, just her and I for a change, and restaurant vouchers so we can all have a lovely meal out for nothing.
On the blog front I've managed to stay on top of my emails and that's proven to be productive, too, with some great work and projects coming through. This has motivated me to spend a little time this week brainstorming future posts ideas and I'm excited to get cracking on those.
What about you? What one word sums up your week best?
Please grab the badge, link up and share.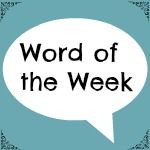 Linky opens at 6.30am Friday, to midnight on Sunday.