Thank you so much for continuing to share and to link up, I do appreciate and enjoy reading every single WotW post.
If you're new here, Word of the Week is a nice and simple weekly linky, with everyone welcome to pop by and share. You reflect back on the past week and sum it up in one word. Then share your word with us in a blog post, with as little or as much explanation as you like. I comment on and tweet out every post, and it's a friendly place, so come join in! All that I ask is that if you link up, you link back to me, and visit as many of the other blogs as you can and comment on their words.
My word of the week this week is:
It's been a big week in the Reading household. Tuesday saw our big girl start school. The Husband had the day off so that he could take her on her very first day, and we all went to meet her to see how she got on – she enjoyed it! She's just done afternoons this week, and then starts full time from Monday. On Wednesday it was Little Man's second birthday. We went to Thomasland, and Boo was able to come with us for the morning, too, and we then had a little birthday tea for him after collecting Boo from school, where he consumed a lot of Kermit cake and opened a lot of presents! So it's been a week of milestones, excitement and a change from the norm. Next week will see reality and routine hit, so here's hoping it all goes smoothly.
What about you? What one word sums up your week best? Please grab the badge, link up and share.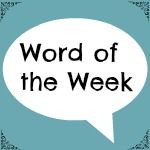 Linky opens at 6.30am Friday, to midnight on Sunday.