Hello and welcome to Word of the Week! The first of 2017, Happy New Year to you all!
If you're new here, Word of the Week is a nice and simple weekly linky, with everyone welcome to pop by and share. You reflect back on the past week and sum it up in one word. Then share your word with us in a blog post, with as little or as much explanation as you like. It's a fun and friendly linky, so please do be lovely and visit as many of the other blogs as you can and share with them your thoughts on their words and weeks. I do comment on every entry to the linky, and if you add the Word of the Week badge to your post to help spread the 'word', I also tweet them out.
My word of the week this week is:
The first week of the year has seen me, along with millions of others, planning. Looking ahead. Considering.
I don't make resolutions, but what I do find as the new year emerges is a renewed vigour to get back to work and studying after a lovely couple of weeks break with the family. I tend to look ahead and make plans for the coming weeks and months, as this hugely distracts me from the fact that it's January, the worst month of the year in my view!
This vigour and enthusiasm is focused and balanced. I am breaking down work into small chunks and my bullet journal helps me to spread out tasks across days and weeks rather than having me dive into everything straightaway. This sort of planning actually frees up my time. It gives that all-important space for family time and even, dare I say it, a little me-time. Last year I got better and better at planning and compartmentalising things so that I would have time to be completely present with the kids, not easy to do when working from home around them and studying, but it was essential and it worked. This year I want to improve on that.
So this week I have got my blog diary up and running with actions for the month, my January bullet journal spreads are all set and in use and I've been hitting the books again, enjoying studying the Chinese empire. And the best bit? The balance feels right. I feel I have had plenty of downtime, lots of family time and I'm feeling relaxed. My to-dos are up to date and plans are in place, so all that remains is for me to sit and read or snuggle up with the kids. Perfect.
What about you? What one word sums up your week best?
Please grab the badge, link up and share.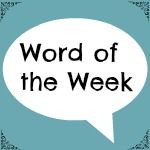 Linky opens at 6.30am Friday, to midnight on Sunday.
Disclosure: I was invited to shop at Grand Central with a lovely gift card