Hello and welcome to Word of the Week! How is it already Friday? And February? Time is flying by! I do enjoy pausing and thinking back over my week, and looking for an overriding theme, helps me to slow the time down. And I thank those of you that take the time to do the same and then link up with me here. It's a pleasure to have you all.
If you're new here, Word of the Week is a nice and simple weekly linky, with everyone welcome to pop by and share. You reflect back on the past week and sum it up in one word. Then share your word with us in a blog post, with as little or as much explanation as you like. It's a fun and friendly linky, so please do be lovely and visit as many of the other blogs as you can and share with them your thoughts on their words and weeks. I do comment on every entry to the linky, and if you add the Word of the Week badge to your post to help spread the 'word', I also tweet them out.
My word of the week this week is:
So yes, it's been cold! You know that, I guess? Well, it's had a bearing on my week as it seems to have affected us.
At the weekend, we went down to my brother's in Bewdley. Lovely place, but oh so cold by the river. And where did my brother propose we luncheon? Oh yes, outside at one of the riverside pubs! There were patio heaters on, but it'd be fair to say that I still felt the cold!
I haven't run in it. How useless am I? Just started running and now the freezing weather is putting me off it. I was berating myself to my mum and she told me you're not supposed to exercise in freezing conditions as it could kill you. Well, I'll be taking that advice and hiding behind it as an excuse then!
My hands always crack in the cold weather. I think the cold and the combination of washing them many times a day makes them very dry. I'm used to it, and used to them bleeding, but unfortunately, my poor little Boo came home with bleeding knuckles the other day which of course upset her. We're getting through some hand cream here!
It makes me a bit grumpy, too. I think it's the biting wind that we encounter on our morning school run that then puts me off venturing out in the day with Little Man. And I know we always feel better when we get out into the fresh air, but we've hibernated a bit this week, just popping in and out on school runs (oh, and to collect my mum from A&E, but that's a whole other story!). He's been very happy, as we've painted and crafted and played and read, but I'm itching to get out. I think a weekend family outing is needed, so I'll get onto that!
Oh, and to round it off, the Husband and I woke up yesterday with colds. Hooray!
What about you? What one word sums up your week best? Please grab the badge, link up and share.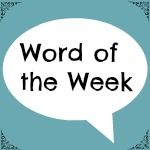 Linky opens at 6.30am Friday, to midnight on Sunday.