Hello and welcome to Word of the Week!
If you're new here, Word of the Week is a nice and simple weekly linky, with everyone welcome to pop by and share. You reflect back on the past week and sum it up in one word. Then share your word with us in a blog post, with as little or as much explanation as you like. It's a fun and friendly linky, so please do be lovely and visit as many of the other blogs as you can and share with them your thoughts on their words and weeks. I do comment on every entry to the linky, and if you add the Word of the Week badge to your post to help spread the 'word', I also tweet them out.
My word of the week this week is:
Ah yes, the delights of revision. You're jealous of my week, aren't you?
So last Friday morning saw me submitting my final assignment of this year's module, which did make me very happy! Of course, as the assignments end, the revision must begin, ready for my exam on the 3rd June.
It's been a few years now since I've needed to revise, but fortunately, it seems revision is like riding a bike and I still know how to do it. I've decided to take one of my blocks to cover on each day that Little Man is in nursery, so I can do around 5 hours at a time that way, twice a week. I've six blocks to cover, so in theory (oh, the best laid plans) in three weeks time, I'll have covered the blocks, allowing me one week to go back over anything I'm unsure of and then giving me that final week off as that's half term and I'd really like to spend time with the kids then. I'm creating a brightly coloured timeline of events for each block, so it's all about the stationery, too, which I honestly think is helping me to remember things as I am enjoying it more!
Of course, the extra little challenge is that by using all of my boy's nursery time for revision, I have no spare blog time. Hmm, tricky. So over the long weekend, I got down to work and managed to schedule a little over three weeks worth of posts in, and I'll then be able to use odd evnings and snatch time here and there to write a few more and keep up with the admin.
Totally in control right? What could go wrong?!
What about you? What one word sums up your week best?
Please grab the badge, link up and share.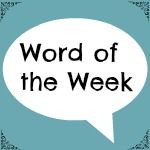 Linky opens at 6.30am Friday, to midnight on Sunday.