Thank you so much for continuing to share and to link up. I love reading everyone's chosen words, and it's great to see so many familiar linkers, as well as new ones each week.
If you're new here, Word of the Week is a nice and simple weekly linky, with everyone welcome to pop by and share. You reflect back on the past week and sum it up in one word. Then share your word with us in a blog post, with as little or as much explanation as you like. Come join in! All that I ask is that if you link up, you link back to me, and visit a handful of other blogs and comment on their words.
My word of the week this week is:
If you saw my blog post yesterday, you'll be unsurprised by this word! Boo has discovered the Teenage Mutant Ninja Turtles. They are taking over her every thought and waking moment! She wants to watch them, play with them or actually be them. Then when she wakes up in the morning, she'll tell me that she dreamt about them! Oh, how it takes me back, as my brother used to love these, too. However, this is not the only reason for turtles this week, as coincidentally, Little Man has also been very attached to his new cuddly toy, too – a turtle. It's nothing to do with the TMNT, and I'm pretty sure he's not associating it with them, he simply loves him. He's been on all of our trips this week with us (the turtle that is – I'm not in the habit of leaving Little Man at home!) and it's so sweet to see him clutching the originally named 'turtle' to his chest, wherever we may go, and I do like hearing him say 'turtle'. Turtles have ruled my week!
What about you? What one word sums up your week best? Please grab the badge, link up and share…..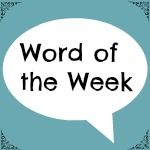 Linky opens at 6.30am Friday, to midnight on Sunday.