Hello and welcome to Word of the Week!
If you're new here, Word of the Week is a nice and simple weekly linky, with everyone welcome to pop by and share. You reflect back on the past week and sum it up in one word. Then share your word with us in a blog post, with as little or as much explanation as you like. It's a fun and friendly linky, so please do be lovely and visit as many of the other blogs as you can and share with them your thoughts on their words and weeks. I do comment on every entry to the linky, and if you add the Word of the Week badge to your post to help spread the 'word', I also tweet them out.
My word of the week this week is:
It was Boo's 7th birthday this week, and as part of the celebrations we went away for the weekend. We went up to the Peak District, visiting Chatsworth House and Bolsover Castle as well as shopping, eating out, and a hotel stay. It was a really lovely weekend, packed with quality family time. I need this. I need to be out of the house, away from the chores I can see around me, away from the temptation of replying to emails, drafting blog posts and such. And though I do love chilled weekends when the kids just play and lounge around with us (they definitely have their place, or I'd be both exhausted and broke!) weekends like this really do fill me with happiness and relax me. The kids are at the point that it does feel more pleasure than pain going away for the weekend – you know what I mean if you recall baby and toddler days!
We then had Boo's actual birthday on Monday along with a little birthday tea with her grandparents. Now, I always love my family, but it's at special times like this that you really appreciate what you have. Our parents were there, doting on both the kids, playing with them, talking to them and generally adoring them as grandparents often do. My auntie called to chat to Boo having sent her a toy that she'd been desperate for, my brother called her to check on her day and tell her he loved her and his wife messaged her, my other sister-in-law messaged her and sent her a gift that made her squeal with delight and even my 20 year old nephew sent a message to say that he and his brother had been thinking of her. My kids are so lucky. I am so lucky. My family of four expands to become a family of many and I am fortunate that we all get along so well with each other. We are close and we are friends as well as family. That means something to me, and I am so pleased that my kids get to grow up surrounded by so much love and affection.
So yes, 'family' is my word of the week. It could no doubt feature every week as we are in and out of each other's lives regularly, but every now and then I like to stop and appreciate it, as it's not something I take for granted.
What about you? What one word sums up your week best?
Please grab the badge, link up and share.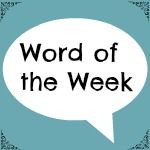 Linky opens at 6.30am Friday, to midnight on Sunday.