Thank you #WotW linkers! Great to have you joining us. If you're new here, Word of the Week is a nice and simple weekly linky, with everyone welcome to pop by and share. You reflect back on the past week and sum it up in one word. Then share your word with us in a blog post, with as little or as much explanation as you like. I comment on and tweet out every post, as long as you add my #WotW badge or a link back to here. It's a fun and friendly linky, so please do be lovely and visit as many of the other blogs as you can and share with them your thoughts on their words and weeks.
My word of the week this week is:
I struggled to come up with a word for a while this week. It's been a full one, a busy one, where I've got lots done, but the over-riding theme is that it's been 'different'. All good 'different's.
Over the weekend, Christmas shopping commenced in earnest, so I've had parcels arriving all week, and we had a good old spend at the shops which we haven't done in ages, and I even bought myself a few new items of clothing – very rare! Boo then had a teacher training day on Monday, so the Husband also had the day off, which was different and really lovely to get out and about together on what felt like a secret, stolen day. Tuesday night I went out – different! It was to a charity night at a friend's house, so I managed to buy a few more gifts there and a gorgeous new Advent calendar ready for just a few weeks time. On Wednesday I went into Boo's school for a parents workshop. This was different in two ways – firstly that I got to see my girl in her school environment which I don't get to do every day and loved doing so, and secondly, in that my father-in-law looked after Little Man whilst I did so. They've not had one-on-one time like that together before, and both Grandad and Grandson seemed to very much enjoy it. And on the blog front, I've been pleased to have various new and exciting opportunities come my way, which always brightens the day and makes it a bit different. I do like 'different', keeps it all fresh!
What about you? What one word sums up your week best? Please grab the badge, link up and share.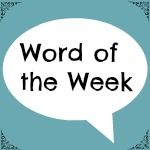 Linky opens at 6.30am Friday, to midnight on Sunday.