Thanks so much for continuing to link up and read! Lovely to see so many regulars back last week, along with a few new faces, too – everyone's welcome and you can find out more about it here.
So onto my week then, and it has been..
Truth be told, this has been the case for a little over a week, but it wasn't something I could share last week. The Husband found out towards the end of last week that he was being made redundant from the job he'd had since leaving college. Cue much stress, anxiety and panic. Fortunately, he has got another job, and we really hope it will be good. But it's a huge change for him, and unlike me, he's really not a fan of change (same job since leaving college remember). So it's been unsettling for us. Change often is, I think, and this one feels huge. And it's been worrying and scary. I do know that even though everything feels odd right now and it's difficult for the Husband, we will be OK. We are all healthy and we are all together, so unsettling though it may be, I am confident that we will find our way back to calm and normality soon.
What about you? What one word sums up your week best? Grab the badge, link up and share, and take a peek at the others…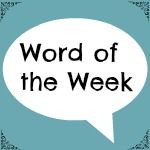 Linky opens at 6.30am Friday, to midnight on Sunday

Visit The Reading Residence's profile on Pinterest.