Hello and welcome to Word of the Week!
If you're new here, Word of the Week is a nice and simple weekly linky, with everyone welcome to pop by and share. You reflect back on the past week and sum it up in one word. Then share your word with us in a blog post, with as little or as much explanation as you like. It's a fun and friendly linky, so please do be lovely and visit as many of the other blogs as you can and share with them your thoughts on their words and weeks. I do comment on every entry to the linky, and if you add the Word of the Week badge to your post to help spread the 'word', I also tweet them out.
My word of the week this week is:
It's been a good week. It's had its normal ups and downs, my hayfever has been driving me mad, my girl's ruined more uniform than can possibly be normal and there have been the normal day to day 'aahhh' moments, but overall, I have felt happy and contented. Why?…
Last weekend saw us having a brilliant mini-break filled with fun adventures not too far away from us in Leicestershire. If you spotted it on my Instastories you'll know what we got up to, but I will be sharing more here next week. Suffice to say, we all absolutely loved it. And it kind of set the tone for the week.
Little Man and I had a great day out together mid-week, as we went to see the new Power Rangers film (I have to be honest, I liked it far more than I'd expected to!) followed by lunch at Pizza Hut which is always a huge hit as my boy loves that ice cream factory!
I've had through quite a few exciting blog emails this week leading to projects and work that I am very enthusiastic about. I've also launched a book swap this week that's proving popular, and I always like to think of pre-loved books going to happy homes. Always makes me buoyant when things are going well here.
I have written my final university assignment and I am 'happyish' with it. I'm off to a tutorial tomorrow so I'll no doubt tweak it after that before submitting it in the next few days, a couple of weeks ahead of my deadline, meaning that I can switch off for a bit over Easter, ready to get back to it and write my end of module assessment after the break.
And today is the last day of term. This week has seen my Little Man go from strength to strength at nursery as he's so much happier there now and runs off with his friends as soon as we arrive. This week Boo has had the honour of reading the end of day story aloud to the class, a job normally for the teacher, and she's completed her very first Speech and Drama LAMDA exam. We're waiting on the results, but she did it and she enjoyed it, so I am proud and happy for her whatever the result. I am looking forward to seeing them both in their Easter bonnet parade this afternoon and then I'm so ready for two weeks off with them and another little mini-break next week. Can't wait!
What about you? What one word sums up your week best?
Please grab the badge, link up and share.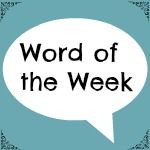 Linky opens at 6.30am Friday, to midnight on Sunday.