Hello and welcome to Word of the Week!
If you're new here, Word of the Week is a nice and simple weekly linky, with everyone welcome to pop by and share. You reflect back on the past week and sum it up in one word. Then share your word with us in a blog post, with as little or as much explanation as you like. It's a fun and friendly linky, so please do be lovely and visit as many of the other blogs as you can and share with them your thoughts on their words and weeks. I do comment on every entry to the linky, and if you add the Word of the Week badge to your post to help spread the 'word', I also tweet them out.
My word of the week this week is:
OK, I have to just say before I go on to talk about 'Harry' that I have just found out I passed my Open University module with a Distinction, an actual Distinction! Puts me on course for a First. So yeah, felt I needed to mention it as I'm pretty chuffed with that 😉 Right, back to 'Harry'…
Over the weekend we took the kids to The Making of Harry Potter Studio Tour. I shared more about our time there yesterday, but suffice it to say that it was a hit with them! I've been reading the Harry Potter books with Boo at bedtimes, and they have so quickly captured her imagination. They are brilliant books, and I'm enjoying reading them again and rediscovering their magic with my daughter. In the run up to our visit, we've shown Little Man snippets of the films to give him a feel for it and to spark his imagination. It meant he was very excited, too!
Since our return, my son has been dressing up as Harry daily, and every afternoon when Boo comes home from school, they both play 'Harry Potter', which is totally adorable and thoroughly entertaining as an onlooker. Little Man has also asked to be read Harry Potter at bedtime, too, so we're on The Philosopher's Stone with him. Seems a bit early, but he's keen!
And 'Harry' is also the word for me this week, as our dog Harry had to be put down this coming week a year ago. I can't really believe it's been a whole year since then. He has been on my mind a lot this week with the anniversary looming. I still miss his little face and soft, droopy ears. May he be resting in peace.
What about you? What one word sums up your week best?
Please grab the badge, link up and share.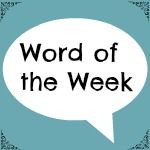 Linky opens at 6.30am Friday, to midnight on Sunday.