Thank you so much for continuing to share and to link up, and thanks for all of your lovely comments last week.
If you're new here, Word of the Week is a nice and simple weekly linky, with everyone welcome to pop by and share. You reflect back on the past week and sum it up in one word. Then share your word with us in a blog post, with as little or as much explanation as you like. I comment on and tweet out every post, and it's a friendly place, so come join in! All that I ask is that if you link up, you link back to me, and visit as many of the other blogs as you can and comment on their words.
My word of the week this week is:
Not the most scintillating of words, I grant you. I struggled a little this week, to find a theme or a summation. I leaned towards spirited or challenging, as the children have been the former, which I have found to be the latter! My temper has been tested and lost more than once this week! But in the end, I settled on transport for a few reasons…
Little Man is really starting to show clear preferences now that he's growing into full toddlerhood, and he most definitely likes his transport. He loves brumming his cars around, gets so excited when he sees a tractor when we're out and about and he impressed me this week by building a fair bit of his train track all by himself. Cars, trains, planes, trucks and tractors will all enthral him and actually hold his attention…for a little while at least! I've also been researching balance bikes for him for his upcoming 2nd birthday, which has taken up a fair bit of time so far. There are so many out there, but I'll figure it out! And then to Boo and her transport. She had her first bus journey this week. My mum had been promising to take her on one for a while and it at last came to pass. She was so excited about going, and fortunately it lived up to expectations as my mum tells me she loved it, and kept telling her so while they were riding – top deck at the front, best seats in the house! And finally, my brother-in-law got his long awaited new car yesterday. He's been wanting it for a long time, saved for it, ordered it months ago, and hooray it's finally here! We look forward to seeing it this weekend, which also happens to be my nephew's birthday – lots of excitement in their house this week!
What about you? What one word sums up your week best? Please grab the badge, link up and share.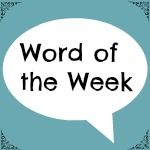 Linky opens at 6.30am Friday, to midnight on Sunday.