It's that time again where I sum up my week in a word, and invite others to do the same. It was lovely to see so many people sharing their words last week, both familiar and new, so thank you for all joining in.
If you're new here, Word of the Week is a nice and simple weekly linky, with everyone welcome to pop by and share. You reflect back on the past week and sum it up in one word. Then share your word with us in a blog post, with as little or as much explanation as you like. It's a fun and friendly linky, so please do be lovely and visit as many of the other blogs as you can and share with them your thoughts on their words and weeks. I do comment on every entry to the linky, and if you add the Word of the Week badge to your post to help spread the 'word', I also tweet them out.
My word of the week this week is:
It had to be, didn't it?
In case you missed it, this week I launched #BringBackPaper's 2015 challenges and activities, encouraging 'me-time' with paper. Which means I've not only spent time getting the word out, but prior to posting on Wednesday I was planning and plotting it all. As ideas struck me, they've been scribbled down in my #BringBackPaper notebook and it's been nice to get some suggestions from others, too. In other paper news, I'm now completing my one-line-a-day diary, I'm onto my second book of the week, I bought yet another writing set at the weekend (it's an illness, really, I literally can't not buy one if I see it in the sale), and I've had some lovely snail mail, incoming and outgoing. Oh, and with my gorgeous girl now back at school, there's been plenty of paper coming home in her bag every night, too!
What about you? What one word sums up your week best? Please grab the badge, link up and share.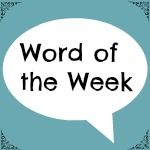 Linky opens at 6.30am Friday, to midnight on Sunday.