Hello and welcome to Word of the Week!
If you're new here, Word of the Week is a nice and simple weekly linky, with everyone welcome to pop by and share. You reflect back on the past week and sum it up in one word. Then share your word with us in a blog post, with as little or as much explanation as you like. It's a fun and friendly linky, so please do be lovely and visit as many of the other blogs as you can and share with them your thoughts on their words and weeks. I do comment on every entry to the linky, and if you add the Word of the Week badge to your post to help spread the 'word', I also tweet them out.
My word of the week this week is:
Oh yes, I have been feeling festive this week!
Last Friday I wrapped all of the kids presents whilst watching a Christmas film. There's nothing like a bit of wrapping to get you feeling all Christmassy.
The weekend then saw us put our Christmas tree and decorations up, so the house feels all set for Christmas now. There was a lights situation that saw me dashing to B&M mid-afternoon for new ones, but I don't mind as it enabled me to indulge in a little nostalgia as I bought multicoloured lights as they were all we ever had when I was a girl. I love them. Then on Sunday we took the kids to the SeaLife Centre in Birmingham to Meet Santa – they absolutely loved it! It was so nice strolling down by the canals to get there on a frosty morning, with the children bubbling with excitement about it all.
Whilst in Birmingham, we popped over to Grand Central as I was invited to do a little Christmas shopping there….
Have you been? It's in Birmingham just above New Street train station, so it's nice and easy to get to. It's full of lots of my favourite shops, including Tiger, Joules, Pylones, Cath Kidston, Foyles, John Lewis and Paperchase – you can see that I need not go anywhere else! We decided to pop into John Lewis and as they were offering little tastes of their panettone (Little Man was all over that!) we ended up in their food section and could not leave without buying a few treats. It was perfect as we bought a gift for Little Man's keyworker as well as a few pressies for friends. The kids also 'needed' gingerbread, apparently! I then popped into Paperchase (I do realise that this pretty much goes without saying) and spotted the lightbox in there and just had to have it. I have had my eye on one for a while, and this was the last one they had so it seemed like fate. They also have mini lightboxes, which I thought were cute. So we left Grand Central laden with Christmas treats, feeling the festive mood.
On Tuesday I met up with a good friend for a catch up over a festive hot chocolate, and there was cake involved, of course. Then I visited a fab friend on Wednesday and we chatted over mince pies before I went to see Boo in her carol concert which was absolutely lovely, so sweet to see all of them happily singing, and perfect for putting me in a Christmassy mood. Christmas cards have been arriving all week, Christmas music is playing, our elf is up to mischief every night and the kids have had new Christmas books that we're reading daily. Yep, festive just about sums it up!
What about you? What one word sums up your week best?
Please grab the badge, link up and share.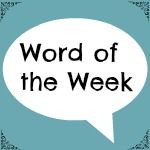 Linky opens at 6.30am Friday, to midnight on Sunday.
Disclosure: I was invited to shop at Grand Central with a lovely gift card