Thank you so much for continuing to share and to link up. I love reading everyone's chosen words, and it's great to see so many familiar linkers, as well as new ones each week.
If you're new here, Word of the Week is a nice and simple weekly linky, with everyone welcome to pop by and share. You reflect back on the past week and sum it up in one word. Then share your word with us in a blog post, with as little or as much explanation as you like. Come join in! All that I ask is that if you link up, you link back to me, and visit a handful of other blogs and comment on their words.
My word of the week this week is:
I am literally bursting with it this week! If you read my post from a few days ago, you'll know that I've made a big decision, and since making it, I've been like the proverbial bottle of pop! I've got so much done, both in writing posts for the blog (I'm all scheduled up for a week now!), writing pieces for elsewhere, making contact with an array of people that I'm hoping to be able to work with in some form or another and it's already paying off, as I've some really exciting opportunities coming through. Funnily enough, by closing my cards business, it's also given me a fresh enthusiasm for it, as I'm selling a lot this month! It'll be nice to go out in style. And on the family front, my gardening enthusiasm continues to bloom, and I've been making more of an effort to try new foods and recipes, and am feeling enthusiastic about the new foodie journey I'm about to embark upon – I will blog it, of course 😉 And I even summoned up some enthusiasm for a de-clutter and wardrobe clear-out, so I am feeling more organised and tidy now, too.
What about you? What one word sums up your week best? Please grab the badge, link up and share…..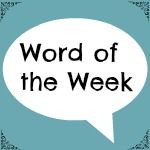 Linky opens at 6.30am Friday, to midnight on Sunday.