Hello and welcome to Word of the Week!
If you're new here, Word of the Week is a nice and simple weekly linky, with everyone welcome to pop by and share. You reflect back on the past week and sum it up in one word. Then share your word with us in a blog post, with as little or as much explanation as you like. It's a fun and friendly linky, so please do be lovely and visit as many of the other blogs as you can and share with them your thoughts on their words and weeks. I do comment on every entry to the linky, and if you add the Word of the Week badge to your post to help spread the 'word', I also tweet them out.
My word of the week this week is:
Oh yes, a week of celebrations and the anticipation of more to come.
Sunday saw us getting together with family to celebrate my nephew's 21st birthday, which was actually on Monday. I am still not sure how my little nephew is 21, but it has somehow happened!
Then this week has been building up to a birthday break, so I have been making preparations, wrapping presents, writing cards, getting ahead with work, making plans for the children, all so that we can celebrate more birthdays.
Today is the Husband's birthday so after dropping the kids at school and nursery, we'll be off out shopping and doing lunch. Then the kids are off to my mum's for the weekend tomorrow to give us more time to celebrate, as next Tuesday I will turn 40, yes, the big 4-0!
So forgive me, lovely WotWers, but I will not be reading and tweeting this week as we are having a few days off, a rare thing and something that I'm quite excited about!
What about you? What one word sums up your week best?
Please grab the badge, link up and share.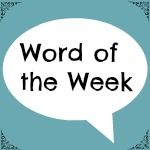 Linky opens at 6.30am Friday, to midnight on Sunday.