Hello and welcome to Word of the Week!
If you're new here, Word of the Week is a nice and simple weekly linky, with everyone welcome to pop by and share. You reflect back on the past week and sum it up in one word. Then share your word with us in a blog post, with as little or as much explanation as you like. It's a fun and friendly linky, so please do be lovely and visit as many of the other blogs as you can and share with them your thoughts on their words and weeks. I do comment on every entry to the linky, and if you add the Word of the Week badge to your post to help spread the 'word', I also tweet them out.
My word of the week this week is:
We've had several adventures this week and as we've enjoyed them, we have been planning more!
Little Man had a wonderful birthday last Saturday, and on Sunday and Monday we went up to Blackpool for an adventure. We visited Blackpool Zoo, which we all loved, and then strolled the seaside, piers and arcades until the illuminations all came on and blew the kids away! They loved it! The following day they played on the beach and squeezed in a few more 2p machines before we made our way home. It was a lovely adventure that inspired us to have more little breaks away and so my bullet journal has a dedicated page for planning them and several ideas have been noted down already.
The first will be Boo's birthday as that's at the start of October, so we've booked a weekend away for her and I then need to sort a little party tea for her actual birthday, though she'll be at school on the day itself. And speaking of Boo, this week saw her start a new adventure, in the shape of Year 2 at school. On her first day she was happy going in and bouncing coming out, so I'll take that as a win!
And then to the adventure that I've had my eye on all week. Tomorrow the Husband and I are off to London for weekend and are meeting my brother and his wife there – it'll be her birthday tomorrow. We're going to do a little sightseeing, before making our way to Wembley to see Billy Joel – we all love him, it's going to be good! In the meantime, the kids will have an adventure here as they have Nanny staying with them, which they always enjoy.
What about you? What one word sums up your week best?
Please grab the badge, link up and share.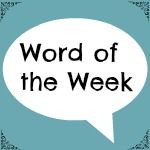 Linky opens at 6.30am Friday, to midnight on Sunday.