I regularly run pen pal sign ups here (you can check this page for details of monthly activities) and share snail mail tips and Where to Find Pen Pals. So let's assume that you are now all set and have a pen pal to write to. But the question is, what to write to your pen pal?
Well, the first tip here is to be yourself. Just as when you meet a person face to face, be real as it's the best way for a friendship to form.
These are real friendships, as anyone who has been pen palling for a while will tell you, and just because you may be miles from one another and may have never 'met', you can still be friends in this way.
So start as you mean to go on and imagine yourself meeting someone for the first time.
A few suggestions of what to say about yourself to your pen pal:
Your family situation
Work, study, whatever you get up to each day
Your favourite pastimes and hobbies
Why you're pen palling, and whether you write to other people
A little about your home town/country
Anything significant that's going on in your life at the moment
That you're looking forward to hearing from them!
With these, do pop in questions as you're going through as you're likely to want to know the same things about your new pen pal.
Do remember you've plenty of time to get to know one another, so you do not need to share your entire life story, hopes, dreams and wishes in one ling missive!
So initial letters sent, you'll now know a little more about one another. From there, your letters will probably flow more naturally as you respond to one another's news and questions. If you're looking for other topics, then try…

Ongoing pen pal chat:
Breaks, trips and events that you have enjoyed
Any TV shows/films you've been watching
Share what you're reading at the moment
Family and personal news
Updates on ongoing tales that you're sharing
Things you're looking forward to
Plans and changes on the horizon
In all of the above, just ask the same questions of your pen pal.
If you're on the lookout for a little more inspiration, then you can now get The Pen Pal Pack in store, along with a range of Pen Pal Fun Packs.
Get The Pen Pal Pack Here! The pack takes the question out of 'what to write?' as along with writing paper, it includes fun mail tags and sheets to either complete or send, or both! There are two complete designs in one pack, here's a little glimpse….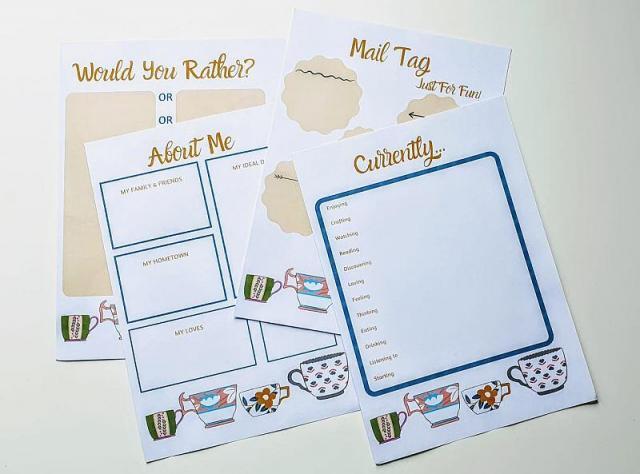 As an added extra, you might also like to try little things like Mail Tags and Pocket Letters going forward as they are fun to prepare and to receive.
And my final tip on what to write? Enjoy it.
This is a fun hobby to have and it is lovely to both pen a letter and to receive some happy mail. Savour the moments and have fun with your snail mail.
Are you snail mailing?
If you're new to Bring Back Paper, you can find out more about it all here. You can join our Facebook group here and you can sign up to join my mailing list below, for all the latest news, updates, ideas and activities.