Hello and welcome to Word of the Week!
If you're new here, Word of the Week is a nice and simple weekly linky, with everyone welcome to pop by and share. You reflect back on the past week and sum it up in one word. Then share your word with us in a blog post, with as little or as much explanation as you like. It's a fun and friendly linky, so please do be lovely and visit as many of the other blogs as you can and share with them your thoughts on their words and weeks. I do comment on every entry to the linky, and if you add the Word of the Week badge to your post to help spread the 'word', I also tweet them out.
My word of the week this week is:
If you saw my post last week, Using a Bullet Journal to Plan for Disney World, this will come as no surprise!
We have decided that we want to take the kids to Disney World next summer, so this week has been all about the early planning to figure out how we'll do it and what exactly we want to do while we're there.
The Husband and I have holidayed in Orlando, just before we got married, so over 15 years ago now. We loved it and since having the kids we've often said we'd like to take them at some point. We've decided that next summer will be perfect, so since deciding we want to do it, I have been in full on planning mode looking into our various options, accommodation, best times to go around school, and the most cost-effective way for us to do it as it is not a cheap holiday!
In the meantime, Boo and I have been enjoying watching Disney vlogs and checking out lots of the rides. She loves the videos of the parades, so I think she will love those and all of the character meets.
We should be booking it at some point this month, we're just figuring out a few more things, and then all that remains for us to do is save, save and save some more!
What about you? What one word sums up your week best?
Please grab the badge, link up and share.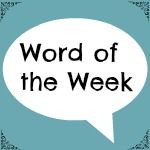 Linky opens at 6.30am Friday, to midnight on Sunday.