Thank you so much for continuing to share and to link up, I do appreciate and enjoy reading every single WotW post.
If you're new here, Word of the Week is a nice and simple weekly linky, with everyone welcome to pop by and share. You reflect back on the past week and sum it up in one word. Then share your word with us in a blog post, with as little or as much explanation as you like. I comment on and tweet out every post, and it's a friendly place, so come join in! All that I ask is that if you link up, you link back to me, and visit as many of the other blogs as you can and comment on their words.
My word of the week this week is:
I nearly went for 'final', but that sounded, well, too final and somehow quite negative.
I've been very aware this week that it's the last week of the school holidays, which for us, means the last week of having Boo at home with us most of the time. She'll be starting in reception next week, albeit just half days until the following week. This is also Little Man's last week of being 1. Yes, my baby turns 2 next week, and I can't believe where the time has gone with either of them. And so I've been savouring the moments, the ordinary moments. The lazy mornings, the way they sit right next to each other at snack time, Little Man sleeping in his cot (a new big boy bed will be here soon!), the playtimes together, sometimes calm, sometimes chaotic. I've even savoured the bickering, and I've been freakishly patient with them this week, which isn't something I'm that good with normally, but seeing it in a different light has had me savouring every single moment.
What about you? What one word sums up your week best? Please grab the badge, link up and share.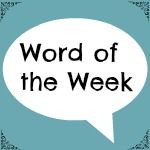 Linky opens at 6.30am Friday, to midnight on Sunday.